Conference General Chair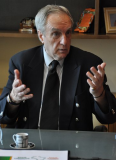 Prof. Luiz Moutinho
Visiting Fellow and Professor of Marketing, Suffolk Business School, University of Suffolk, England.
Visiting Professor of Marketing, The Marketing School, Portugal.
Adjunct Professor, GSB, FBE, University of the South Pacific, Suva, Fiji.
Publication Chairs
Assoc. Prof. Songsong Liu, School of Economics and Management, Harbin Institute of Technology, China
Dr. Julia Puaschunder, Columbia University, USA
Dr. Jia Li, Swansea University, UK
Technical Program Committee Chairs
Updating...

Technical Program Committee
Prof. Sónia Rolland Sobral, Universidade Portucalense, Portugal
Prof. Marika Vicziany, Monash University, Australia
Prof. Kwami Hope Quao, Wenzhou-Kean University, China
Assoc. Prof. Yingchen Yan, Beihang University, China
Assoc. Prof. Songsong Liu, School of Economics and Management, Harbin Institute of Technology, China
Assoc. Prof. Chew Fong Peng, University of Malaya, Malaysia

Assoc. Prof. Au Yong Hui Nee, Universiti Tunku Abdul Rahman, Faculty of Business and Finance, Malaysia
Assoc. Prof. Fei Wang, Renmin University of China, China
Assis. Prof. Dongyuan Zhan, University College London, UK
Assis. Prof. Nurul Mohammad Zayed, Daffodil International University, Bangladesh
Dr. Desireé Cranfield, Swansea University, UK
Dr. Guoliang Wang, Hangzhou Dianzi University, China
Dr. Yangyang Lu, China Jiliang University,China
Dr. Erni tanius, University of Selangor, Malaysia
Dr. Phu Nguyen, Lecturer in Structural Engineering Department of Civil Engineering Monash University, Australia
Dr. Marios Dominikos Kremantzis, University of Bristol, UK